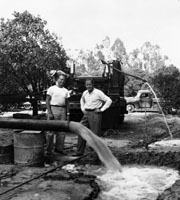 Tustin Water Works superintendent, Walter Rawlings, and Earl Rowenhorst watch water pour from a pipe as the La Veta well comes in, Tustin, ca. 1946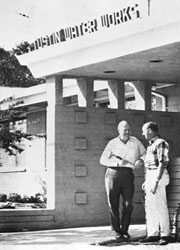 Walter Rawlings and Earl Rowenhorst in front of the Tustin Water Works office, ca. 1950s
*Deceased - Sunday, August 9, 2015
OC Register
EARL EDWARD ROWENHORST 1922 - 2015

On Sunday morning, August 9, 2015, at the age of 93, Earl "the Pearl" Rowenhorst was called to his eternal home in heaven. Born on July 13, 1922 in Marion, South Dakota to Chris and Everena Rowenhorst, Earl grew up on the farm with his eight brothers and sisters, one of whom, Gladys Wieman, is still living there at the age of 98. After leaving South Dakota, Earl proudly served in the Army in World War II under General MacArthur in the Philippines, and was awarded two Bronze Stars and the Purple Heart.
Once Earl returned home, he settled in Southern California and went to work for the Tustin Water Works in 1946 as assistant to Walter Rawlings to help manage the 700 services in place at the time. He continued working for the privately-owned company for 34 years until 1980 when the City of Tustin took over. He continued as water service manager until 1987 when he retired.
On June 27, 1954, Earl married Marilyn Perozzi, and they had three children - Sharilyn Sullivant, Sandra Waite and Stephen Rowenhorst (Sharon). Earl and Marilyn recently celebrated their 61st wedding anniversary. They have seven grandchildren - Amy Dirolf (Todd), David Brown (Melissa), Leslee Sullivant (Chris), Elizabeth Waite, Caroline Waite (Ari), Sarah Rowenhorst and Robert Rowenhorst, and one great-granddaughter, Pearl Dirolf.
Earl was a life member of the American Water Works Association and he was instrumental in the development of Tustin's water system. In 1961, he was part of a group of Tustin men that formed Tustin Savings and Loan. He was named Tustin Man of the Year in 1966, and he also served on the board of directors for the East Orange County Water District.
Earl also enjoyed spending time in the San Joaquin Valley where he grew oranges on "the ranch," and spent time with his sister Edna Veeh's family. In recent years, Earl enjoyed spending time in Palm Desert, loving the warm weather. His health was good until the past few years. When he finally declined, he was comfortable at home where he wanted to be, with the loving care of St. Joseph Hospice, his wonderful caregivers, and his family. Earl "the Pearl" was a Christian and a true family man - in our opinion the best husband, dad, grandpa and great-grandpa a man could be.
A celebration of Earl's life will be held at Fairhaven Memorial Park in Santa Ana on Saturday, August 22, 2015 at 10:00 am, with visitation Friday the 21st from 5:00 to 8:00 pm. In lieu of flowers, donations may be made to Cal Farley's Boys Ranch, PO Box 1890, Amarillo, TX 79174.